A History of Latin America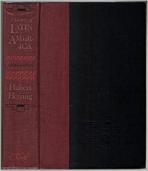 With the death of Hubert Herring on September 29, 1967 we have lost one of the wisest of the pioneer historians of Latin America. The bare facts of Hubert Herring's career fail to capture the man's vitality or to appreciate his vast influence on the study of Latin American history in the United States. Iowa born, Hubert Herring received his B.A. from Oberlin College, and his M.A. from Columbia University. In 1913 he graduated from Union Theological Seminary. Perhaps because of his unorthodox educational background, Herring's view of Latin America was never restricted by preconceptions or prejudices.

Where most historians of Latin America are fortunate to make one or two countries their own, Hubert Herring's catholic perspective embraced them all. His wide-ranging and frequent visits to the countries south of the Rio Bravo enabled him to acquire a first-hand acquaintance of Latin American leaders and people and a breadth of understanding of Latin American problems that will be difficult to duplicate.

Although Professor Herring, during his years on the faculties of Pomona College and Claremont Graduate School in California, wrote many articles and books on various Latin American themes, his greatest monument is his History of Latin America. Where most textbooks are dull or at best pedestrian, Hubert Herring's is alive and exciting. Where most textbooks lose the student in a maze of undigested detail, Hubert Herring's illuminates the trends, patterns, and significance of Latin America's history. A History of Latin America introduced and will continue to introduce countless students to the rich and complex past of Latin America.

As might be expected from his textbook, Hubert Herring was an outstanding teacher. His lectures were invariably exciting, and his enthusiasm proved irresistibly contagious. Even after his retirement from active teaching his willingness to aid and counsel students was proverbial. Moreover, age never seemed to dim the spark of his imagination or freeze the flexibility of his mind. It is, then, with a deep sense of loss that we note here the passing of Hubert Herring.